How to Become Bilingual: Miyakoan and Japanese
Hello, it's Fujita-Round.
On October 26th 2016, I did the second part of my seminar on "History and Culture of our Homeland" in the north wing of Miyakojima Hirara-shi Library. This time, the topic was on "Becoming bilingual: Miyakoan and Japanese".
Miyakojima Hirara-shi Library https://www.facebook.com/%E5%AE%AE%E5%8F%A4%E5%B3%B6%E5%B8%82%E7%AB%8B%E5%9B%B3%E6%9B%B8%E9%A4%A8-579131532199651/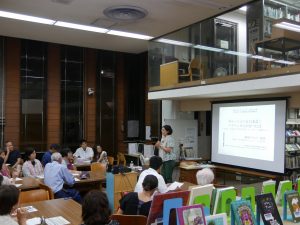 I have been visiting Miyako-shi since 2012 for my research. "Miyako-shi" is not only one island, but it's made up of 6 different cities/villages/town and 6 separate islands since 2005. The population in all 6 islands is around 54000 people.
http://www.city.miyakojima.lg.jp/syoukai/gaiyou.html
Originally, the library where I presented my interim report was called the "Okinawa Prefectural Library". I would visit this library often to read documents published about local history. There are children's books, magazines and newspapers so I enjoyed the atmosphere. Children reading story books, adults reading newspapers; I could interact with local people while reading documents. I was able to present in this environment with people from wide age ranges (maybe from high schoolers to people in their 70s).
I'll explain about how the talk was structured. The main theme of this talk was about bilingual children's language development and discuss about what could be done to integrate this into their Miyakoan education. I wanted the audience to understand about bilingualism so we had group discussions on bilingualism. I also explained about the transition of Miyakoan into Japanese from a historical point of view. (I will expand on this as a report in the future)
As a final topic, I discussed about the revitalisation of Miyakoan. Strategies to deliberately code-switch between Miyakoan and Japanese, and that an environment to allow "sumafutsu" (the local language) to become part of people's vocabulary is necessary. I concluded with saying that for this to happen, people must view the bilingualism of Miyakoan and Japanese as an educational issue.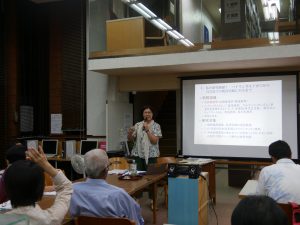 I plan to continue discussing about bilingualism with the local people of Miyakojima.