A Month in Santiago, Chile (1)
Since my family moved recently, I decided to spend my summer holidays (it was more of a winter holiday) to spend it in Chile's capital city; Santiago. I was there for about a month and stayed at my parents' apartment.
The view of The Andes Mountains in Chile/Argentina from the plane (photo by my father on a business trip).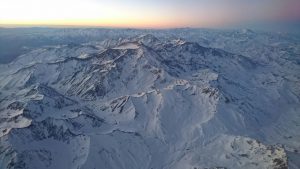 As soon as I got off the plane I regretted not taking my winter coat as hand luggage. It was freezing. Since Japan is in the north hemisphere and Chile in the south, the seasons are opposite. So I was, of course, wearing summer clothes. My parents' apartment was a 30-40 minute car ride from the airport. It's located in a metropolitan area of the city called "Las Condes".
Santiago is a city surrounded by snow-capped Andes Mountains. As you drive/walk around the city you can see in the distance, beautiful mountains surrounding you.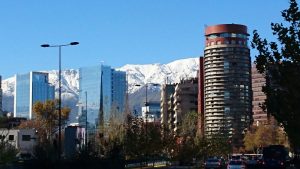 My siblings started school soon after I arrived so we weren't able to do much tourism but I have some photos from normal day-to-day activities.
Food In Chile
One of the first thing I wanted to do here was to try Chilean food so I headed to a Chilean restaurant recommended by my father's co-workers. The first dish I had was empanadas (stuffed, baked or fried pastry). In Chile, the most traditional empanada filling is 'pino' (ground beef, onions, black olives and hard boiled eggs). The second dish was called 'cazuela' (cooking pot in Spanish), with meat, vegetables, rice or small noodles all boiled together.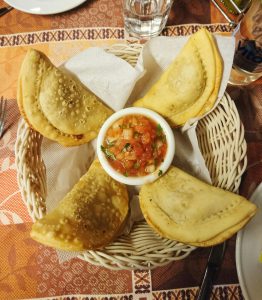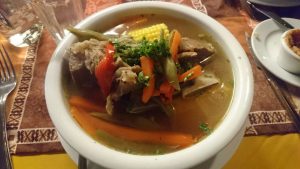 Shopping In Santiago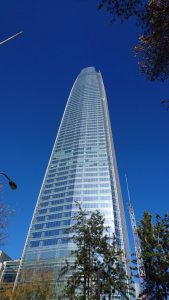 On a different day, I visited a famous shopping located in the middle of the business district and is famous for being next to the "Gran Torre Santiago", known to be the tallest skyscraper in Latin America (64-story building). The shopping mall is actually South America's largest mall, with over 100 stores (including Zara, H&M, Adidas, Hugo Boss etc.), a cinema, a supermarket and 3 of Chile's largest department stores.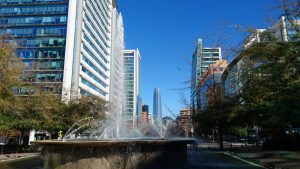 Part 2: A Month In Santiago, Chile (2)